MINI Cooper Strut Alignment Reinforcement System by Craven Speed - 2nd Gen Turbo Models
Product Information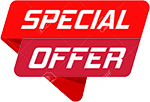 $299.99
Add some strength to you MINI with this Strut Alignment Reinforcement System by Craven Speed for 2nd Gen Turbo Models!

Whether you are competing at an autocross or driving on a Sunday afternoon your MINI is at risk. Because around every corner, in the very depths of every pothole, and the pinnacle of every bump G forces lie in wait. The occasional G may seem harmless by itself, but at times there may be several lurking in one rut and once they have done their damage to the sheet metal atop your tightly sprung strut towers, it will be difficult to resume normal activity.
Less than one inch of tower deformation can be extremely detrimental to your MINI's alignment. This has been a common issue that MINI owners have had to face. It is a compromise in the design of the vehicle, where the tight springs allow for the griptastic handling that we love on the twisties, but are the main reason that our MINI's have a unique disposition for sheet metal deformation.

Fits:
For second generation Turbo-charged MINI models only
Most 2007+ MINI S Models including the Clubman, Coupe and Roadster