MINI Cooper Sport Lowering Springs by H&R - (2007-2013) R56
Product Information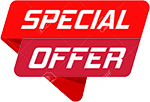 $249.99
Add these Sport Lowering Springs by H&R to your MINI Cooper for a more aggressive stance.
Suspension is one of the most important factors in determining your vehicle's day-to-day drivability. The first step in suspension tuning is to upgrade your vehicle's stock springs. Upgrading your suspension components will ensure that your vehicle has improved handling and reduced body roll. H&R springs have superb ride comfort and increased driving convenience.
H&R Special Springs are high quality products—they will not set or sag, they are designed and manufactured to be strong, resilient, and more durable than other automotive coil springs. All H&R springs are crafted from a special (hf) 54SiCr6 spring steel to ensure premium quality and performance.
H&R Sport Springs lower the vehicle center of gravity and reduce body roll for better handling. The progressive spring rate design provides superb ride quality and comfort. A lower wind resistance signature will make the vehicle more streamlined and improve gas mileage. If you are only looking to improve one part of your vehicle's suspension, you cannot go wrong with installing Sport Springs.
Features:
Average lowering is .75" to 1.4"
Reduced body roll
Better handling
Lower wind resistance
Improved gas mileage
Superb ride quality
Fits:
Fits R56 models
Fits MINI Cooper years 2007 - 2013