MINI Cooper S Uprated Alloy Intercooler by Forge - (R55/ 56/ 57) 2007+
Product Information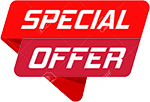 $649.99
Add this Uprated Alloy Intercooler by Forge to your Mini Cooper S for better performance and cooling!
After a comprehensive development program involving thorough testing in various environments, Forge is convinced that you will not find a superior Intercooler for this application. Forge's development program included the use of many types of Intercooler core and end tank designs. At the initial stages they ran two development projects alongside each other, one an air to air Intercooler and the other an air to water Chargecooler system. The air to air development achieved significantly improved temperature reductions in comparison, which convinced them to solely concentrate on this option.
Often imitated in design, Forge still remains the market leader due the exhaustive core testing undertaken in the development stages.
This intercooler is constructed using a combined 80/ 40mm high thermal efficiency core, with a 250% larger surface area and a 125% thicker base core, to achieve the best possible results.
In fact, even in relatively low road speeds/ air velocities, Forge's intercooler was able to better the OEM unit by 9°C! The replacement intercooler is supplied with all the mountings to allow ease of installation.
Fits: