MINI Cooper Adjustable Short Shifter -R55 / R56 / R57 / R58 / R59 / R60 - Craven Speed
Product Information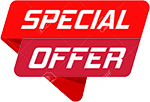 $189.99
MINI Cooper Adjustable Short Shifter by Craven Speed for the R55 / R56 / R57 / R58 / R60 Model

Make Everyday Driving less Everyday
When you upgrade to this fully Adjustable Short Shifter, you won't miss a shift but you might miss shifting. MINI made a great car for the masses but you want your MINI to drive exactly the way you want it to. It would be crazy if the seat and steering wheel didn't adjust to your comfort, so why shouldn't the shifter.
The ONLY Shifter That Adjusts at Your Request
The Adjustable Shifter from Craven Speed is the only short shifter that gives you the option to set and re-set the shift length and height at ANY TIME. Just as quickly as you can adjust the seat or mirrors, you can change the feel of this shifter. A locking collar sits near the base of the shifter and requires only a twist before the height and throw can be adjusted to your liking. You don't even need to look at what you are doing; with with our unique design, you cannot over adjust the shifter. Go ahead and move it from top to bottom without damaging your transmission.
You CAN Use Your Stock Knob and Boot
Although the shifter is prepared for aftermarket M12 x 1.25 threaded shift knobs, the MINI stock knob fits perfectly with the INCLUDED knob adapter. This adapter will also allow you to fit any BMW/MINI Shift Knob. Without the adapter installed, the Craven Speed Short Shifter will also accept most aftermarket knobs. Many use the same standard; M12 x 1.25 thread as our available shift knob. The shifter can be adjusted with the faux-leather boot in place, just feel the mechanism and twist.

Fits:
MINI Cooper Clubman R55 (2008-2014); Fits all models
MINI Cooper R56 Hatchback (2007-2013); Fits all models
MINI Cooper R57 Convertible (2009-2014); Fits all models
MINI Cooper Coupe R58 (2008-2014); Fits all models
MINI Cooper Roadster R59 (2008-2014); Fits all models
MINI Cooper Paceman R60 (2008-2014); Fits all models
If you have any questions or need help selecting the right product for your MINI Cooper, please feel free to give us a call. We are here to help!