MINI Cooper Shifter Retaining Clip - F54/ F55/ F56/ F57 - Craven Speed
Product Information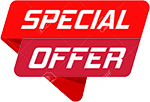 $39.99
Replace Your Factory Retainer Clip with this new Nylon Shift Retainer Clip by CravenSpeed!
When changing the shifter in your MINI it can be easy to break the plastic retaining clip. MINI won't sell you a replacement without purchasing your entire shifter assembly, so now we manufacture a replacement.
Everything You Need With The Right Fit
MINI Shifter Retaining Clip is custom made for your MINI and comes ready to install.
Better Fit and Feel Than OEM
This MINI Shifter Retaining Clip Pro is made of nylon, and the fit is tighter than stock, reducing 'play' in the shifter housing. So with or without our adjustable short shifter, you'll notice a difference.
*The Shifter Retaining Clip will only fit MINI's with a production date of 12/03 or later.