MINI Cooper S Upgraded Intercooler by Forge Motorsport - R58/R59
Product Information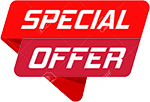 $499.99
Upgrade your R58 MINI with this Upgraded Intercooler by Forge Motorsport!


This intercooler is constructed using a combined 80/40mm high thermal efficiency core, with a 250% larger surface area and a 125% thicker base core, to achieve the best possible results.

For the 2012 onwards, Coupe model (R58) Mini Cooper S we have developed a more efficient intercooler. As a reduction in intake air temperature increases the density of the charge mixture within the combustion cylinder any temperature reductions will equate to more power.

In fact even in relatively low road speeds our intercooler was able to better the OEM unit by nine degrees centigrade, with greater improvements being achievable during greater speeds during track testing. The replacement intercooler is supplied with all the mountings and a replacement lower grill to allow ease of installation.

Please note that this kit has been designed to fit behind the original front bumper and that if an alternative aftermarket front bumper has been installed, the grille may have to be modified by the customer.