MINI Cooper S Turbo Induction Kit by Forge Motorsport - R55/ 56/ 57
Product Information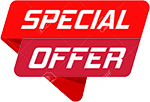 $299.99
Let the motor of your Mini Cooper S Turbo R55/ 56/ 57 with this Induction Kit by Forge Motorsport!
This Induction Kit by Forge Motorsport is manufactured in Gloucester, UK and includes a laser cut sheet aluminium heat shield with an air scoop to direct cold air to the slam panel. Engineered to be a bolt on product, Forge made sure that this Induction Kit will fit to all stock mounting locations using rubber grommets in effort to cancel any vibrations. With a precision machined MAF boss, you literally only need to bolt on your OEM MAF sensor, no cutting, fabricating, or drilling!
Features:
Carbon Fiber Induction Kit
Replaces the original filter and air box to improve the breathing of your engine
Maintains the intake of Colder air from the front of the vehicle
Added ease of installation
Sportier sound without being obtrusive

Fits:
R55/ 56/ 57 Cooper S 2007+
Please note this only fits the earlier N14 engine (2007-2012) and not the later N18 engine.