Mini Cooper S Silicone Intake Tube by ALTA Performance (R52/ R53 Models)
Product Information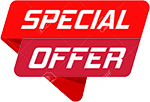 $133.99
Improve power with the ALTA Performance Silicone Intake Tube for your MINI Cooper S!
The ALTA Silicone Intake Tube, connects the air box to the throttle body with a mirror smooth silicone hose promoting a high velocity air charge. Unlike the corrugated and ribbed factory inlet hose, turbulence is eliminated and air flow velocity is increased as the ALTA inlet hose has a larger inside diameter.
Fits:
MINI Cooper S R52 Convertible (2005-2008); For vehicles with Manual Transmissions only
MINI Cooper S R53 Hatchback (2002-2006); For vehicles with Manual Transmissions only
Features:
Connects to the stock airbox as well as nearly all other air-box replacement intake systems
Mirror smooth finish eliminates turbulence in the intake system
Larger inside diameter then stock increases air flow velocity
Easy installation

Please Note! This product is not CARB certified and is only intended for "off-road" use. Check your local and federal laws prior to installation! This item cannot be shipped to customers in the State of California.