MINI Cooper S Replacement Cone Filter for ALTA Intake System by ALTA Performance
Product Information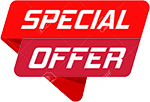 $69.99
Increase power with the ALTA Performance Open Cell Foam Filter!
The ALTA Performance Open Cell foam filter will increase horsepower, filter better and is simple & easy to install! This is a direct replacement for all ALTA Cold Air Intake Systems as well as any universal applications needing a filter with a 2.75" mouth.
ALTA Performance filters feature a unique two piece design allowing the user to remove the foam filter element for easy cleaning. Easily run the element under a faucet for cleaning and ring out by hand. Simply slip the foam sleeve back over the filter frame and you're ready to go.
ALTA foam filters are made of reticulated polyurethane foam which offers a minimal air restriction. The filter element is sprayed with a special oil that adheres to the foam making the poly matrix sticky to retain dirt. Foam filters do not block dirt, they grab it, suffering only minimal drops in air flow as they filter dirt, maintaining air flow levels when other filters would clog.
Remove months of oil and grime by simply spraying on this easy to use cleaner. Just let it sit on the filter element for a few moments and simply rise in the sink. Once your filter is dry, just spray on a fresh coat of oil and you are ready to go.
Features:
Two piece design makes it easier to clean
Foam media allows for a minimal air restriction
No reduction in power as the filter begins to accumulate dirt
Replacement for the ALTA Performance Intake Systems
Reusable, designed to last the life of your car
Overall Width: 4.5"; Overall Height: 9.5"; Inside Diameter: 2.75"
Please Note!
This product is not CARB certified and is only intended for "off-road" use in California or CARB states. Check your local and federal laws prior to installation!