MINI Cooper S Hi-Flow Catted Downpipe - Milltek (F56 Models)
Product Information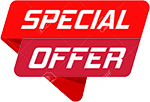 $1,049.99
Are you looking to unleash extra power from your MINI?
Designed for those that track their car, this High Flow Catted Downpipe is a great way to add power to your car if you are planning to use it in a Non Pollution Controlled Environment.
These cats have an open area of between 75-85%, thus reducing back pressure substantially and increasing flow rates all very desirable for extracting more performance.
Features:
Emission levels are maintained at legal limits by careful selection of the volume of the metallic substrate
Lamda probe positions remain unchanged from the original equipment
Manufactured from 304 aircraft grade stainless steel
Pipe Diameter: 2.75"
Adapter Sleeve included for fitment with OEM Cat-Back system
Please Note:
This item requires a Stage 2 ECU remap.