Mini Cooper S Cold Air Intake System by ALTA Performance - Red (R55/ R56/ R57/ R58/ R59/ R60/ R61 Models)
Product Information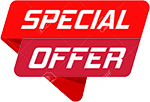 $274.99
Unleash the power and sound of your Turbocharged MINI with the ALTA Performance Cold Air Intake!
The ALTA Turbo MINI Cold Air Intake not only adds a proven 10WHP and 10ft-lbs of torque to your 2007+ MINI Cooper Turbo S and JCW, but it also unlocks the sound from your turbo! With this intake not only will you hear the turbo sucking in and compressing the air, but you will hear the OEM blow off valve blowing off too.
With an ALTA intake system your car will make a throaty, deep tone on throttle that is undeniably modified. You will be able to hear your supercharger whining, both stock and aftermarket.
The ALTA Turbo MINI Air Box was designed with light weight aluminum. This provides a stiff, strong, and corrosion proof shroud for the ALTA high flow foam filter and a connection point for the fresh air tube. With a red wrinkle finish powder coat is applied to keep things looking clean and finished for that show appearance under the hood.
Their high flow foam filter reduces intake restriction and increases the surface area from which the engine can ingest clean air. Unlike cotton and gauze type filters, foam filters allow for multi-layer filtration. The ALTA Performance foam based filter will trap dirt within the filter at many different levels. This allows for better particulate restriction and will not reduce HP as the filter gets dirty.
Our intake is designed to remove the OEM hood scoop plug/screen. During initial testing we found removing this provides consistent ambient temps to the filter. While it's not a traditional "Cold Air Intake" where the filter is located in a fender well, the ALTA Cold Air Intake is just as good as it still gets a constant flow of ambient cold air. This is just one of the reasons why or intake has dyno proven HP!
NOTE: On early production cars the screen is decorative only and is sealed off completely. You must remove it for best performance. On later models the scoop screen is mostly open and can be left in place.
When dealing with MAF (Mass Air Flow) sensors, small changes in the intake system can create turbulence. While this may seem insignificant, it can make huge changes to how the car runs. Because we are familiar with this problem, great care was taken to eliminate any turbulence issues that might throw a CEL, or make the car run too lean or rich. What does that mean to you? An increase in performance, proper fuel economy and protection for your engine. ALTA is the only manufacture that takes this concern so seriously and our customers reap the benefits!
Fits:
MINI Cooper S Clubman/ JCW Clubman R55 (2008-2014)
MINI Cooper S/ JCW R56 Hatchback (2007-2013)
MINI Cooper S/ JCW R57 Convertible (2009-2015)
MINI Cooper S Coupe/ JCW Coupe R58 (2012-2015)
MINI Cooper S Roadster/ JCW Roadster R59 (2012-2015)
MINI Cooper S Countryman/ JCW Countryman R60 (2011-2016)
MINI Cooper S Paceman/ JCW Paceman R61 (2013-2016)
Features:
Precise fit Aluminum intake box
Powder Coated Red to prevent corrosion or damage
Features ALTA Performance Open Cell Foam Filter
Proven 10-12 WHP gains
Designed to eliminate air turbulence that may cause a check engine light
Easy installation


Please Note! This product is not CARB certified and is only intended for "off-road" use. Check your local and federal laws prior to installation! This item cannot be shipped to customers in the State of California.