MINI Cooper Gear Shift Knob - Chrome w/ Australian Flag Design
Product Information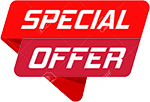 $99.99
Customize your MINI Cooper with a Custom Italian Designed Shift Knob by the World Famous Black(tm).
Features:
Chrome Center Portion
Australian Flag Design Top / Bottom
Machined for a precise fit and finish
Designed and Manufactured in Italy
Designed for the MINI Cooper
Limited production
Comes with all hardware needed
The shift knob by BLACK for the MINI can be installed on all manual transmissions that do not feature a button (see below). If you have a knob like the one to the left or similar it will work. If your knob has a button like the one on the right it will not fit.