MINI Cooper Boost Sensor Tap Adapter by NM Engineering (F54 / F55 / F56 / F57 Model)
Product Information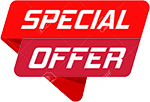 $56.99
Boost Sensor Tap Adapter by NM Engineering for the F54 / F55 / F56 / F57 Model
​
OBDII gauge systems such as ScanGauge, P3, and PLX devices allow you to display sensor readings that the ECU receives, including boost. Generally, such readings are slightly off in timing and accuracy; even furthermore if you have a piggy-back power module system such as Burger Tuning's JB+. This type of upgrade alters the signal that the MAP (Manifold Absolute Pressure) sensor produces to induce ECU adaptation for more power increase. This system works but at the same time it skews the OBDII boost display.
So how do you obtain a reliable boost reading? NM has the solution...
The NM Engineering Boost Tap plugs directly into the intake manifold where the factory Manifold Absolute Pressure (MAP) sensor is located. Installing this adapter is an easy, reliable, and most accurate way to tap into the 2.0T and 1.5T engine (S and non-S) boost source for installing your boost gauge or aftermarket diverter valve.
Features:
6061 Billet Aluminum
Black Hard Anodized
Brass Fitting
Mounting screw with matching OEM thread pitch - others will strip the plastic thread
Notes:
Just like the R5(X) N18 engines, the B38/46/48 also do not produce vacuum reading at manifold.