MINI Cooper 17" Custom Wheels by Carlsson - Revo III DE (Diamond Finish) (R50 / R52 / R53 / R55 / R56 / R57 / R58 / R59 Model) – R99
Product Information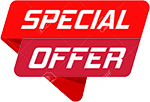 $1,499.99
Upgrade your MINI with these 17" Custom Revo III Wheels by Carlsson!
Carlsson, the highly acclaimed German Mercedes-Benz tuner designed a comprehensive personalization program to create these wheels.
The highest quality in component design and manufacturing techniques transforms the popular MINI Cooper into an even more sporty and individual runabout.
Features:
Genuine Carlsson Product
Imported from Germany
Diamond Finish
Designed to work with the factory TPMS System
No spacers or adapters needed
Front and Rear Wheel Size: 7.0 x 17"
Custom Finishes and Tires available on request
Fits the following models:
R50
MINI Cooper Hatchback – 2002-2006
R52
MINI Cooper Convertible – 2004-2008
R52
MINI Cooper
S
Convertible – 2004-2008
R53
MINI Cooper
S
Hatchback – 2002-2006
R55
MINI Cooper Clubman - 2008-2014
R55
MINI Cooper
S
Clubman - 2008-2014
R56
MINI Cooper Hatchback - 2007-2013
R56
MINI Cooper
S
Hatchback - 2007-2013
R57
MINI Cooper Convertible - 2009-2015
R57
MINI Cooper
S
Convertible - 2009-2015
R58
MINI Cooper Coupe - 2012-2015
R58
MINI Cooper
S
Coupe - 2012-2015
R59
MINI Cooper Roadster - 2012-2015
R59
MINI Cooper
S
Roadster - 2012-2015