MINI Flexpod Gauge Mounting Kit 52mm by Craven Speed (R60 / R61 Model)
Product Information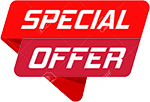 $107.99
The FlexPod Solution

The FlexPod is a seamless way to integrate a pair of gauges into the instrument cluster behind your steering wheel. Each of these FlexPod kits comes with everything you need for mounting, you just have to supply the gauges. Once installed, your gauges will have a factory installed look, and they'll be in the perfect spot above the steering column for reading.
Each FlexPod Gauge Mount comes with a purpose-built Flexpod Bracket, and a pair of custom 52mm (2-1/6 inch) gauge cups. The machined billet aluminum bracket attaches securely in 2 minutes, requiring no drilling, gluing or other modification. That means it is also completely reversible. (Gauges not included.)

Perfectly Matched

Using socket head cap screws, each 6061 aluminum gauge pod pivots to your desired position until you lock it down with the wrench included with your kit. The gauge is secured in the cup using foam pads on the sides of the gauge cups to create tension. Gauges can also be safely interference fit with the included foam pads. Both options leave no visible cues for a clean looking install.

Instead of 'one size fits all,' each cup is machined from billet aluminum to specifically fit the most common size of gauge on the market. Each cup has an inside diameter of 2-1/6 inches (52mm), and a depth of 1-7/8 inches to match most aftermarket gauges including Autometer.
Fits:
MINI Cooper Countryman R60 (2011-2016); Fits all models
MINI Cooper Paceman R61 (2013-2016); Fits all models