MINI Cooper Shift Well Cover by Craven Speed (R50 / R52 / R53 Model)
Product Information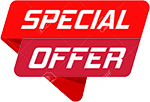 $76.99
Rebooted
There's more than one way to protect your shifter housing; yet so many cars come with the same old shift boot from the factory. For us, 'same old' and MINI do no go well together.
Unique
Drawing inspiration from the gated shifter found on some of the finest Italian autos, Craven Speed created this shift well cover for the MINI. With a recent revision you'll notice the improved look of our shift well as we have done away with the exposed screws on the top of the boot.
They have been replaced with some new screws on the underside of the center console. (Check the image above for a closer look.) Not only does it look better, but the un-boot is held even more securely than before in this position. There is still no cutting or drilling or gluing required; you can return to stock at any time.
It just works
In order to keep dust and debris away from your shifter housing, our shift well uses a sliding plate that you attach to the shifter itself. A custom spring sits around the shifter atop the pivoting ball, and keeps the plate pressed up against the bottom of the well.
Fitment
The shift well cover is a perfect mate for our adjustable short shifter, but it will work (and look great) with almost any shifter including the stock lever. Notice photo above with the B&M shifter installed. The Shift Well Cover does offer easy access to the unique Craven Speed Adjustable Shifter locking collar, having the collar exposed makes adjustments even quicker. Just grab and twist, set and tighten.

Fits:
MINI Cooper R50 Hatchback (2002-2006)
MINI Cooper R52 Convertible (2005-2008)
MINI Cooper S R53 Hatchback (2002-2006)