MINI Cooper iPhone Mount Pro Series by Craven Speed (R55 / R56 / R57 / R58 / R59 / R60 / R61 Model)
Product Information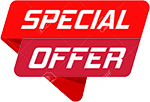 $89.99
Maps. Music. Communication. FlexPod.
Your phone is a powerful GPS; make it work for you in a heads up, hands free mount. This Smartphone Mount solves the problems by mounting your device in plain sight. Move it to where you can see it best. Regain control of your music; plug your phone into our extension cable and select your tracks on your device again. See who is calling; a hands-free FlexPod is the safe way to check who is calling and who you want to call. (Look Officer, no hands!)
The Smartphone Pro-Series is the Most Flexible FlexPod
The FlexPod Pro has an adjustable arm, allowing you to fix the position of your phone where you'd like.
Every FlexPod is Tailored to the Mini Driver
The iPhone FlexPod attaches directly to the back of every MINI tachometer. It features a light yet robust frame with a form-fitting case that keeps your phone secure from all sides.
Tech Specs
In The Box The FlexPod comes assembled, with:
Mounting Bracket (R or Z; depending on MINI Model)
Molded iPhone Cradle on 3.5" arm
Necessary fasteners
12v hidden power adapter
Wiretaps
Materials:
6061 Aluminum Construction
Polymer case
Powder coat and Anodize finish
Compatibility:
Fits iPhone 3, iPhone 4, & iPhone 5
Mounts to all mini cooper models (Z bracket for 1st gen. R bracket for 2nd gen).
Interchangeability with FlexPod accessories
Fits:
MINI Cooper Clubman R55 (2008-2014); Fits all models
MINI Cooper R56 Hatchback (2007-2013); Fits all models
MINI Cooper R57 Convertible (2009-2015); Fits all models
MINI Cooper Coupe R58 (2012-2015); Fits all models
MINI Cooper Roadster R59 (2012-2015); Fits all models
MINI Cooper Countryman R60 (2011-2016); Fits all models
MINI Cooper Paceman R61 (2013-2016); Fits all models