MINI Cooper Gauge Kit by Craven Speed (R60 / R61 Models)
Product Information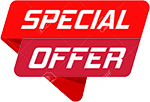 $539.99
Dials to Match Your MINI
Designed from the ground up to match the sweeping, retro-feel of the MINI Cooper interior. We have addressed every detail:
The face of each gauge, has been created with painstaking detail to fit exactly with the current interior.
The gauge bezel is hand-painted using factory BMW paint to ensure there is no visual discord.
Each needle is designed using light pipe techniques to be illuminated brightly, evenly and vividly.
These gauges also utilizes the seamless integration of The FlexPod to cap off the entire OEM look installation.
The gauge faces are now available for JCW's with matching dark gauge faces.
Installs in Minutes
Each CravenSpeed gauge kits comes with a FlexPod Bracket and should take you less than 20 minutes to Completely Install. Since the data is pulled from existing sensors, you just plug the gauges into the port and you are done. There is no need to add redundant hardware that is often cheap, unreliable, and most of all time consuming to install.
A Preemptive Defense
The MINI Cooper is a fantastically tight, nimble and quick 'driver's' car...that is also notoriously lacking in gauges. Driver's know that by establishing a good baseline knowledge of your MINI's Water Temperature, Boost Level, Oil Temp and Psi reading while the car is running well, you will be aware of issues before they become costly problems. A sudden or gradual change in these values can alert you to an issue before they lead to complications or engine failure. You will be much safer in a MINI that will last longer.
Plug and Play Analog-Digital Gauges
This is the world's first gauge of it's type. There are other plugin OBDII gauges, but they cannot give you accurate vitals (Water Temperature, Boost/Vacuum, Oil Temp and Psi) in a classic dial display instead of a digital readout.
You can get CravenSpeed gauge sets with 2 gauges, but you can quickly daisy-chain up to 3 gauges.
Fits:
MINI Cooper Countryman R60 (2011-2016); Fits all models
MINI Cooper Paceman R61 (2013-2016); Fits all models
Features:
Complete kit comes with everything you need to install a set of gauges.
Fits up to 4 52mm gauges.
Machined and powdercoated in Portland, OR