MINI Cooper Engine Torque Arm Insert by NM Engineering (R55 / R56 / R57 / R58 / R59 Models)
Product Information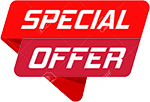 $56.99
Engine Torque Arm Insert by NM Engineering for the R55 / R56 / R57 / R58 / R59 Model


For a small power plant, the MINI Cooper S produces significant power and torque. As a compromise, the OEM torque arm mount is set in rubber to reduce vibration and harmonics, however it is too pliable and sloppy for the performance minded motoring.
NM's Engine Torque Arm Mount Insert is made of polyurethane and reduces engine movement allowing for quicker and more direct transfer of power from the engine to the wheels.
Notes:
Finish : Black

Some late 2007 cars come with this torque arm design. Please visually check your fitment before ordering.

Product images are shown with O.E. torque arm which is not included in the kit.

Red inserts are for display only and not available for sale.

Fits:
MINI Cooper Clubman R55 (2008-2014); Fits all models
MINI Cooper R56 Hatchback (2007-2013); Fits all models
MINI Cooper R57 Convertible (2009-2015); Fits all models
MINI Cooper Coupe R58 (2012-2015); Fits all models
MINI Cooper Roadster R59 (2012-2015); Fits all models